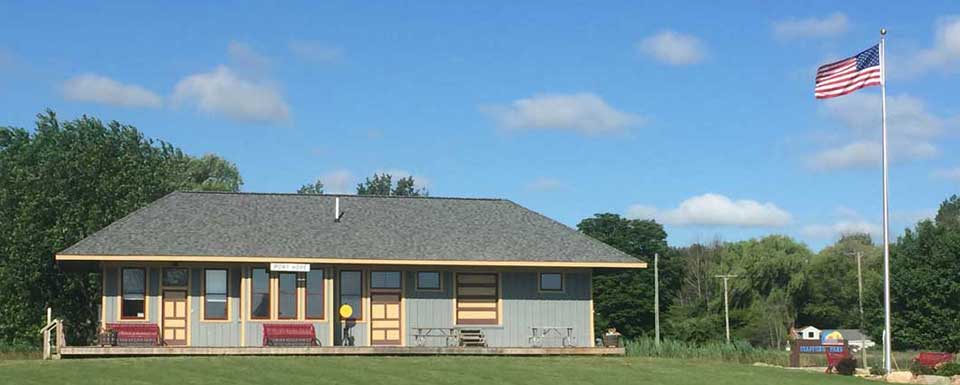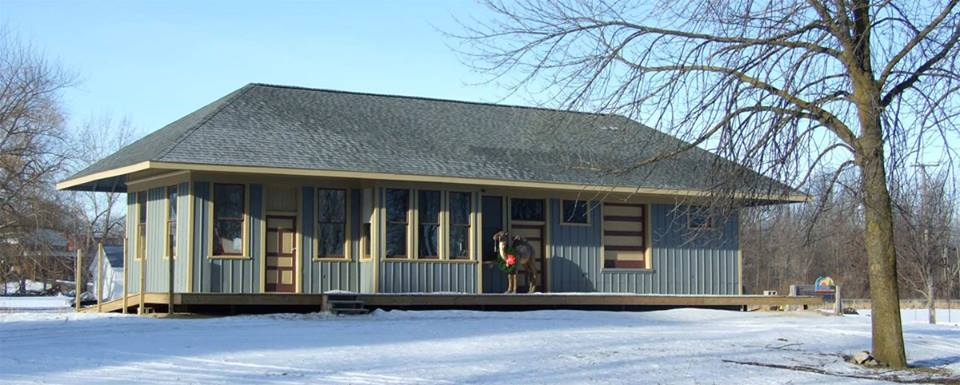 Our 10th Anniversary
September 17, 2022, we celebrated our 10th year of community and individual commitment to restoring the original Pere Marquette railroad station in Port Hope. On this perfect Port Hope Day Scout Troop 582 lead the flag raising and Pledge of Allegiance followed by our members speaking about how we'd achieved so much and where we're going next.
Our newly refurbished caboose was a huge attraction and on hand to talk about that was Mr. Sid Walker and his family who traveled from Pennsylvania for the event.
Author, railroad restorer and supporter Mr. T. J. Gaffney was there to speak about the depot and it's special place in history.
See a collection of pictures from that day and more in our photo gallery.
---
We're on Track!
September 10 2015 we officially dedicated the depot as a historic landmark. The Port Hope Depot restoration project is becoming a huge success due to countless hours of volunteer help and the generous donations from the local community. THANKS!
---
Wednesday, July 18, 2018
The 1904 New York Central Standard caboose has ARRIVED!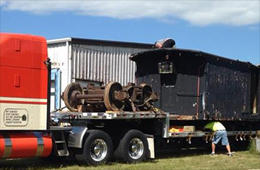 After sitting and waiting for the right time and the right people to come along and restore it, the work begins.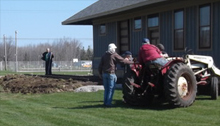 The team needed to dig out, sand, level and set the grade of the land in order to put down the ties, plates and rails.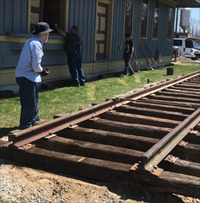 Two rails measuring 39'6" have been donated and new spikes were purchased to secure the rails.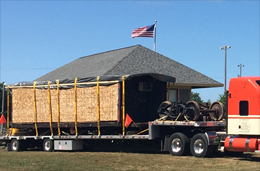 Here's the caboose arriving in Port Hope. Nice job team!
Click HERE to see pictures of the restoration.
---
Other stops along the way.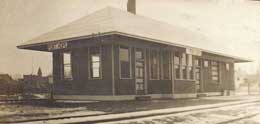 With the help of the community and sponsors, we've taken a once fenced off building, moved it to a stable location and restored it to nearly new. Now with further help from our volunteer staff, we're showing the depot and talking about our history to all who pass by. Make sure to visit our photo gallery and see just how we all pitched in to make the depot a wonderful community center for all.
---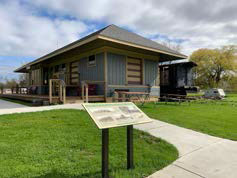 Read the Depot Dispatch
We like to keep you informed about our progress and upcoming activities, so we publish the Depot Dispatch that you can read online or download for printing and sharing. Click here to view our current and past versions.
---
Find us!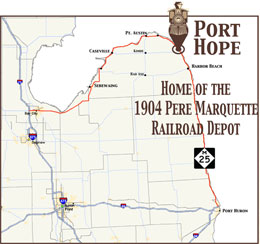 Traveling to the Michigan Thumb? You'll find Port Hope along the eastern side right on Lake Huron. Easy to get to, you're always welcome to visit and if you can make it while one of our volunteers is on site, we'll show you all there is to see. Check here for more about Port Hope and activities around Michigan's Thumb.
---
Visit Us!
Memorial Day to Oct. 1st.
Sat., 10 - 4 and Sun., 1 - 4